Information for Athletes, Coaches and Team Managers
Entry Fees
Payment can be made by bank transfer , as follows:

Account name : SASA East District
Bank : Bank of Scotland
Branch : Musselburgh
Account No : 06001834
Sort Code : 80-17-68
IBAN : GB 16 BOFS 80176806001834.
Your reference – please quote : e19/ent/then add your club or team name

Please submit a completed copy of the summary form to entries@eism.org.uk when entries are submitted. A copy of this form should be emailed to sasaeastdistricttreasurer@eism.org.uk when electronic bank payments are made.

Pool Layout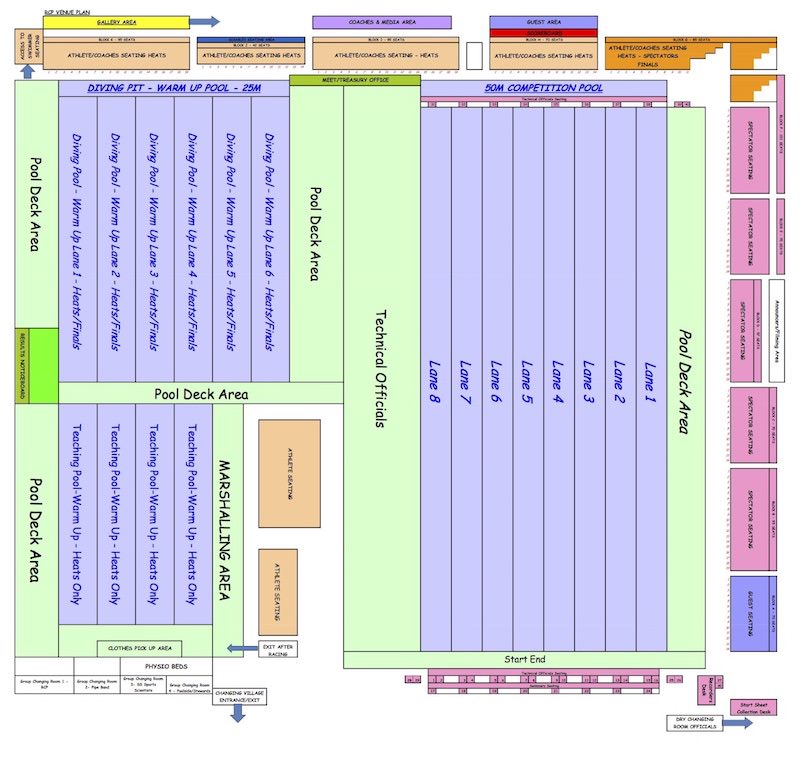 Download Pool Layout PDF
Coach/Team leader's accreditation and information packs
Athletes and coaches will only be permitted poolside if they can show official accreditation. Coaches and other poolside staff should submit a request for accreditation using the form below. This should be submitted to tickets@eism.org.uk by 10 March 2019.
Clubs and teams from overseas are asked also to request a letter from their sport's governing body, stating that those attending comply with their country's child protection policies. Please bring a copy of this letter to the event.
There is no charge for these accreditation passes, but clubs/teams are asked to limit the numbers poolside to essential staff only.
It is mandatory that all coaches / team leaders who are poolside comply with the relevant child protection procedures for their governing body.
A coaches and team leaders meeting will take place at the Royal Commonwealth Pool at 18:00 on Thursday 14 March.  Coaches and team leaders can collect their packs at the meeting, or prior to this from the coaches' desk at the Royal Commonwealth Pool from 16:00.
Staff meals at the Royal Commonwealth Pool or at nearby Pollock Halls should be ordered in advance through the website. Complimentary coffee, tea and other refreshments will be available throughout the meet in the coaches' meeting area at the pool.
Coach, poolside staff pass request
Withdrawals
Withdrawals made before the draft programme is published will be refunded in full at the meet. There are no refunds for withdrawals made after this date, except for medical reasons. Late withdrawals on medical grounds should be discussed with the meet director.
To withdraw a swimmer please contact eismwithdrawals@gmail.com. Provide, the swimmer's name, the event number and club or team name. Use 'withdrawal' and your 'club name' in the subject line of your email.
Late withdrawals during the event should be made in person at the poolside recorders desk as soon as possible, or sent to the above email address no later than 18:00 on the day before the event:
Morning events on Friday 15 March, notified by 18:00 on Thursday 14 March. Afternoon events on Friday 15th, notify by 10:00 on Friday 15th
Morning events on Saturday 16 March notified by 18:00 on Friday 15 March. Afternoon events on Saturday 16th, notify by 10:00 on Saturday 16th
Morning events on Sunday 17 March notified by 18:00 on Saturday 16 March. Afternoon events on Sunday 17th, notify by 10:00 on Sunday 17th
Reserves
A maximum of four reserves will be selected for the heats, in each event. These swimmers will be offered the chance to swim if another accepted swimmer pulls out of the event.
Four reserves will be named for the open and B finals in the 100m and 200m events. There will be two reserves for junior finals and two for open finals in the 50m and 400m events. A competitor in the junior final may be named as a reserve for the open finals.
Where a reserve is brought in at short notice, they will occupy a vacant lane. There will be no reseeding.