Information for Coaches and Team Managers
Entry process
All entry times should be set at accredited competitions since 1 January 2017, and verifiable.

Entries must be submitted using the events files provided. These can be downloaded from this website after 1 November 2017.

Please ensure entries show the full name of the swimmer, full date of birth, registration number and entry time.

Entries must be submitted as long course times. Short course conversions must not be used, nor may times set at long course L3 meets. Split times (including for the men's 800m freestyle) and times set in first leg swims during relays may be used. A proof of times report must be submitted with the entry file. The proof of times report must be submitted from meets recorded in British Swimming rankings; or from meets recorded in the FINA rankings; or Swim News rankings; or from an official meet sanctioned by a National Governing body. An exception exists for the women's 1500m freestyle; those without an accredited time at 1500m, but who meet the consideration time for the 800m event may enter the 1500m. All swimmers must provide an entry time for the 1500m event.

Composite team entries for individual and relay events are acceptable. Relay swimmers, including reserves, should be populated on the entry file. Changes to relay team members can be made up to one hour before the start of the relevant session.

Entries from individuals can ONLY be submitted on the individual entry form available from this website. Acceptance of an individual entry is subject to agreement by the entries secretary, contact entries@eism.org.uk for approval no later than 15 January 2018.

Clubs can get instructions on completing entry files from the EISM website. If further help is needed, contact entries@eism.org.uk. No refunds will be given after acceptances are published. Fees for rejected entries will be returned to clubs during the event.

Closing date for entries noon (GMT) Monday, 22 January 2018.

Individual entry form
Hy-Tek entry files
Summary Form
Entry Fees
Payment:

UK based clubs/ swimmers. Send a cheque payable to SASA East District to :
James Laird, ED Treasurer, Bien Faite, Bridge Street, Saline, Fife, KY12 9TS.

To pay by bank transfer, make payment as follows :
Account name SASA East District
Bank Bank of Scotland
Branch Musselburgh
Account No 06001834
Sort Code 80-17-68
IBAN GB 16 BOFS 80176806001834.
Your reference – quote eism18/entries/then add your club or team name

International swimmers should contact info@eism.org.uk by 1 February 2018 to agree how payment is made.

Please submit a completed copy of the summary form to entries@eism.org.uk when entries are submitted. A copy of this form should be posted also with cheque payments or emailed to info@eism.org.uk when electronic bank payments are made.

Pool Layout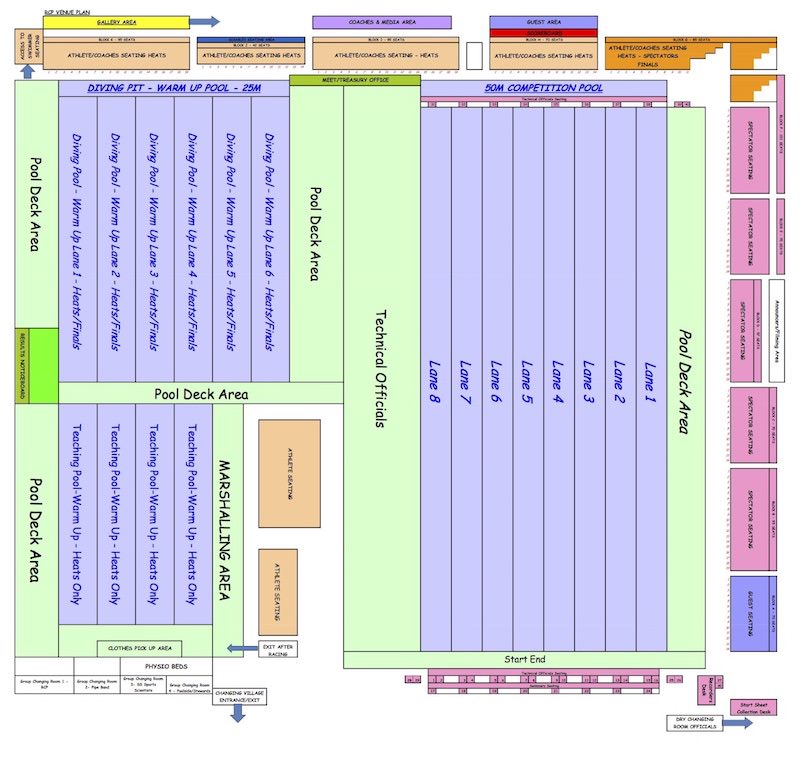 Download Pool Layout PDF
Coach/Team leader's passes and packs
Passes
Athletes and coaches will only be permitted poolside if they can show an official pass.
To request a coach, team leader or chaperone pass please follow this link to the BS website. There are separate processes in place for international, SASA and ASA/WASA members. (ASA/WASA team managers and chaperones should apply through the chaperone process)
https://www.britishswimming.org/members-resources/coaches-passes/
Having completed the process coaches/team leaders will be required to print their own pass and bring it to the pool each day. We will provide lanyards and a plastic holder.
It is mandatory that all coaches / team leaders who are poolside comply with the relevant child protection procedures for their governing body.
Coach/Team Leader meeting and collection of passes
A mandatory coaches and team leaders meeting will take place at the Royal Commonwealth Pool at 18:00 on Wednesday 28 February.
Coaches and team leaders can collect their packs at the meeting, or prior to this from the event desk at the Royal Commonwealth Pool from 16:00 on Wednesday 28 February 2018.
Complimentary coffee, tea and other refreshments will be available throughout the meet in the coaches' meeting area at the pool.
Withdrawals
Any withdrawal made before the draft programme is published will be refunded in full after the meet is over.
There are no refunds for any withdrawals made after this date, except for medical reasons. Late withdrawals on medical grounds should be discussed with the meet director.
A timeline for withdrawals will be published with the draft programme on this website.
Reserves
A maximum of four reserves will be selected for the heats, in each event. Four reserves will be named for the open and B finals in the 100m and 200m events. There will be two reserves for junior finals and two for open finals in the 50m and 400m events. A competitor in the junior final may be named as a reserve for the open finals, and will be moved to the final if needed.
Where a reserve is brought in at short notice, they will occupy a vacant lane. There will be no reseeding.