Information for Coaches and Team Managers
SESSION ONE START LIST NOW AVAILABLE
Download Meet Information
Meet Programme and Schedule
Sessions 1, 3 and 5 (fastest heats) will commence at 08:45.
The slower heats will commence at 11:15 each day and finish at 15:00.

Friday and Saturday finals start at 17:00.
Sunday finals start at 16:30. The fastest heat of the women's 1500 will take place at the end of the morning session at around 10:30.

Details for warm ups to follow.

The final programme can be found here.

Please note, withdrawals made by clubs after the 13 February have not yet been processed. However, clubs are encouraged to let us know as soon as possible of any further withdrawals so that reserves can be notified. Please check below for further information about withdrawing swimmers.

Final programme
Entry Fees
Payment from UK based teams should be made either through this website or by cheque to 'SASA East District' and sent to James Laird, ED Treasurer, Bien Faite, Bridge Street, Saline, KY12 9TS.

International athletes/teams should contact info@eism.org.uk by 1 February 2017 to agree how payment is made.

There are no refunds after the draft event programme of acceptances is published. Fees for rejected entries will be returned to teams during the competition.
Pool Layout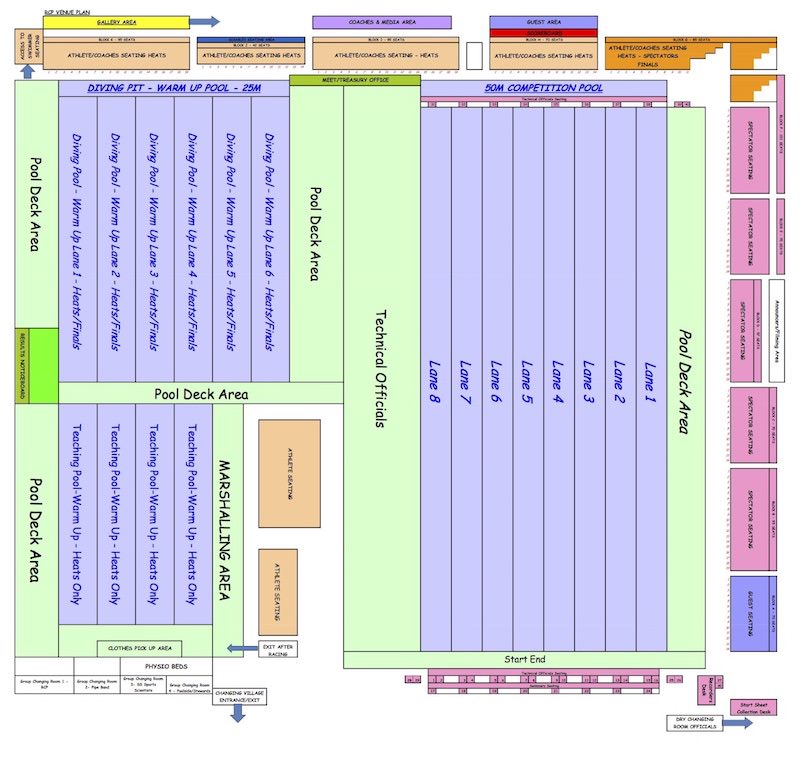 Download Pool Layout PDF
Coach Passes
Coaches and team managers will only be permitted poolside if they can show a staff pass. A staff pass request form can be downloaded here. Any coach or team manager applying for a staff pass must comply with the relevant child protection measures of their governing body.

Clubs and teams are entitled to two free coaches passes valid for all three days of the meet. Additional passes may be purchased by request at a cost of £10 per pass.

Staff passes will be available for collection from the event desk at the Royal Commonwealth Pool from 4:00pm on Thursday, or at the coaches' and team managers' meeting at 7:00pm on Thursday 9 March 2017. Any not collected on Thursday will be available from the coaches' event desk in the reception area of the RCP on Friday.

All team personnel with staff passes will be entitled to complimentary tea, coffee and other refreshments throughout the event, served in the coaches' meeting area.
Request Coach Pass
Event Handbook
The event handbook is now available. It contains information for visiting teams on final session times, training availability, accessing University accommodation, catering provision and other facilities in the area.

It will also provide information for visiting officials and spectators.
Download the event handbook
Withdrawing swimmers
Any withdrawal made before the draft programme was published (on 13 February) will be refunded in full after the meet is over.
There are no refunds for withdrawals after this date.
To withdraw on or before Thursday, 9th March, contact entries@eism.org.uk  Provide the swimmer's name, the event number and club or team name. Use 'withdrawal' and your 'club name' in the subject line of your email. Friday morning withdrawals from heats should be made in person at the recorders desk on the poolside as soon as possible, or sent to the above email address no later than 18:00 on Thursday 9th March:
All other withdrawals from heats should be made at the recorder's desk as soon as possible and no later than:
Friday – heats
Events 101-111 by 18:00 on Thursday 9th March
Events 121 – 131 by 10:00 on Friday 10th March
Saturday – heats
Events 201 – 212 by 18:00 on Friday 10th March
Events 221 – 232 by 10:00 on Saturday 11th March
Sunday – heats
Events 301 – 311 by 18:00 on Saturday 11th March
Events 321 – 331 by 10:00 on Sunday 12th March
Finals
Withdrawals from finals (in session 2, 4 and 6) should be made at the recorders desk on the poolside. These withdrawals must be made within 30 minutes of the finalists list being published for the event (this will be when all the heats for the event are complete).
A list of qualifiers for finals will be shown on the results published around the pool, on the meet website and on meet mobile. Swimmers who have not been withdrawn in the way detailed above, and who do not appear for finals, will be fined and may be suspended from the rest of the competition.
Reserves brought in at short notice will swim in the vacant lane. There will be no reseeding.
Relay changes / withdrawals
Relay team lines should be submitted by 10:00 on the day of the event.
Changes to team members, and withdrawals from relay events, may be made up to 1 hour before the start of either session 2 or 4 as appropriate. These should be handed to the recorder's desk. After this time, changes to swim order cannot be made.
Late withdrawals on medical grounds should be discussed with the meet director prior to submission to the recorders.