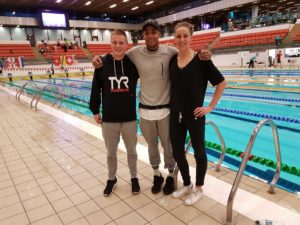 Kazan world champion Jennie Johansson from SK Neptun in Sweden, held off Derventio's Imogen Clark in a very tight women's open 100 breaststroke final on Friday, edging ahead of Clark in the final meters of the race. Her time in the 100m breaststroke earned Jennie one of the overall prize cheques on Sunday night.
While Imogen went out in the early rounds of the 50 m breaststroke skins event on Saturday evening, Johansson went on to win this event too with N Ireland's Mona McSharry finishing second, and Edinburgh's Corrie Scott in third.
Team mates Simon Sjodin finished just behind Duncan Scott in the 200 IM and third in the 200 m butterfly. Erik Persson finished behind Ross Murdoch and James Wilby in the open 100 m breaststroke, but got revenge against Murdoch in the skins event finishing ahead in the last round with a final sprint for the touch.