Information for Athletes, Coaches and Team Managers
Sunday timeline now available
Athlete Passes
Athletes will be provided with accreditation passes on arrival at the RCP. There is no need for swimmers to do anything in advance. Those attending as part of a team will find that their passes have been provided to their coach or team manager, so please make an arrangement to collect it from them.

If attending as an individual, you can collect a pass yourself. You should have some ID available to allow you to collect your pass. The passes will be available for collection in the foyer area of the RCP all day Thursday and on Friday morning, in the area at the top of the stairs before descending to the changing rooms. If the table there is not manned, you can collect your pass at any time from the East District staff seated near the spectator gallery entrance.

Timelines; sessions 9-12
Coach information sheet
Event Handbook
Event Handbook
The event handbook provides information of use to those planning their trip to Edinburgh, including check in times at university accommodation and advice on parking for example.
Pool Layout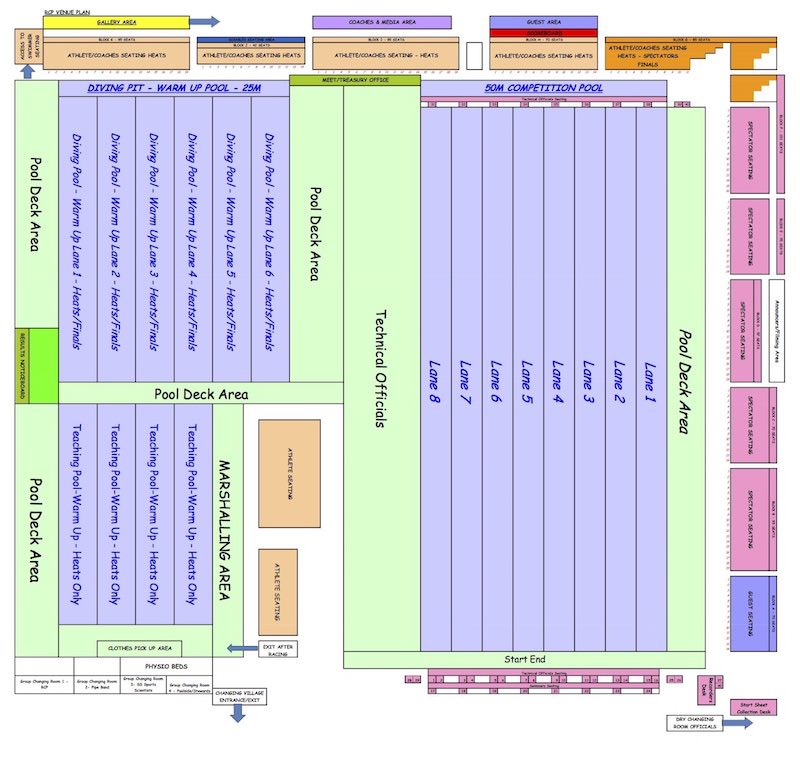 Download Pool Layout PDF
Coach/Team leader's passes and packs
Passes  – closing date is 28 February 2018
Athletes and coaches will only be permitted poolside if they can show an official pass.
To request a coach, team leader or chaperone pass please follow this link to the BS website. There are separate processes in place for international, SASA and ASA/WASA members. (ASA/WASA team managers and chaperones should apply through the chaperone process)
https://www.britishswimming.org/members-resources/coaches-passes/
Having completed the process coaches/team leaders will be required to print their own pass and bring it to the pool each day. We will provide lanyards and a plastic holder.
It is mandatory that all coaches / team leaders who are poolside comply with the relevant child protection procedures for their governing body.
Coach/Team Leader meeting and collection of passes
A mandatory coaches and team leaders meeting will take place at the Royal Commonwealth Pool at 18:00 on Wednesday 28 February.
Coaches and team leaders can collect their packs at the meeting, or prior to this from the event desk at the Royal Commonwealth Pool from 16:00 on Wednesday 28 February 2018.
Complimentary coffee, tea and other refreshments will be available throughout the meet in the coaches' meeting area at the pool.
Coach / team manager info sheet
Withdrawals
Any withdrawal made before the draft programme is published will be refunded in full after the meet is over.
There are no refunds for any withdrawals made after this date, except for medical reasons. Late withdrawals on medical grounds should be discussed with the meet director.
Please check the draft programme carefully. If you have any queries on what you see, send your comments and questions to the email address given below on or before Saturday, 3 February 2018.
eismwithdrawals@gmail.com
Also use this email address for any withdrawals. These should be notified as soon as you can, by providing the swimmer name, event and club/team.
The final deadline for withdrawals is 18:00 on the day preceding the event.  Any withdrawal for an event on 1st March, should be notified to the above email address by 18:00 on 28 February.
Also:
Events on Friday 2nd March notified by 18:00 on Thursday 1 March
Events on Saturday 3rd March notified by 18:00 on Friday 2 March
Events on Sunday 4th March notified by 18:00 on Saturday 3 March
Reserves
A maximum of four reserves will be selected for the heats, in each event. These swimmers will be offered the chance to swim if another accepted swimmer pulls out of the event.  We have no control over when an accepted swimmer will pull out but could I encourage any who might, to do so as soon as possible, to give the reserve some notice.
Some swimmers withdraw almost at once when they see the programme, and others will do so as the meet approaches and they think about which events they wish to concentrate on, or travel plans change, for example.
We hope to know of all withdrawals by 18:00 the night before the event. Details of the withdrawals deadlines are shown above.  However, it is possible that we will not know about a withdrawal until the swimmers marshall for their event (coaches and swimmers can be forgetful). So, even in the marshalling area, a reserve can be allocated a swim. Thus, we ask all reserves to marshall. If a swimmer does not marshall on time, they will be withdrawn.
We understand that there is significant expense involved in coming to the meet and, without a guarantee of a swim, that is an expensive option.  All we can do to help is contact swimmers who we know are moving into the programme with a confirmed swim. This we will do as soon as we get the notification from the withdrawing club/swimmer.  You will get an email stating that a swim is now confirmed for NAME in such and such an event.  Please don't email us to check, we will tell you, when we know, as soon as we know.
Four reserves will be named for the open and B finals in the 100m and 200m events. There will be two reserves for junior finals and two for open finals in the 50m and 400m events. A competitor in the junior final may be named as a reserve for the open finals, and will be moved to the final if needed.
Where a reserve is brought in at short notice, they will occupy a vacant lane. There will be no reseeding.